DESCRIPTIONS
Equipment
---
Flexibility
One unit, 3 different versions.
The dentist's element is available with Over-the-Patient version, Cart version and Chair-Side version.
Dentist Element
Self-explanatory control panel
No unnecessary control buttons or complicated menus. The control panel shows only those functions that you need at any given time. The symbols are self-explanatory and dedicated keys are assigned to the functions that you use most frequently. In other words, you can navigate at a single glance without having to interrupt your accustomed treatment routines.
Preset Chair Position Key
Other Wonderful Design
Assistant element
LED Operating Light
Three-axis, provides unlimited positioning.
Flexible light intensity settings.
Auto On/Off function: Turns the dental light on/off automatically when the chair reaches a special position.
You can aslo control the dental light on/off using the control panel or foot control.
Clear Intraoral Images(optional)
Optional: integration of an intra-oral camera adds a new dimension to patient communication.

Dentist Chair
R7 dental chair comes with one dentist chair, if you want to get one more, you can add it as a optional, the price for one more dentist chair is USD 170.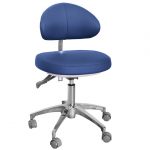 Ergonomics
---
Dynamic Design Upholstery
The comfortable microfiber leather upholstery provides exceptional patient comfort. The soft and dynamic design surface increases comfort, shows style and allows for a relaxed treatment atmosphere merely through its appearance and texture.
Thin backrest for ideal freedom of leg movement, flexible positioning of the foot control.
Quick Release Articulating Headrest
Your can sdjust the articulating headrest easily with one hand by depressing the Quick Release Button and situating the headrest in the desired position. Release the button to lock headrest into place.
Comfortable Patient Positioning
Quick adjustment: Only 9 seconds for backrest to move from the lowest position to the highest position.Synchronized movement of seat and backrest, which keeps the patient from having to readjust when the chair is lowered or raised.
Other Wonderful Design
Hygiene
---
Detachable Hygiene-critical Compoments
The hygiene-critical components can be detached for the purpose of cleaning/thermal disinfection and sterilization. The smooth surfaces are easy to clean on a daily basis.
Safety
---
Quality
---
Top Brand Component
All the main components using inside Mr.Right dental chair are from world's famous brand name, which insure Mr.Right dental chair super high quality, reliable for years.
Strong and Stable Chair Frame
All frame compoinents get through special rust proofed treatment for long time usage,all the moving parts are connected by oil seal bearings for silence and stale chair movement. Weight capacity up to 300kg.